Every once in a while I get a wild inkling to create something out of the leftovers.
This was something I threw together on a day that I was working my butt off on homework. I needed BRAIN food in a hurry! I went to the fridge and spied the leftover island mango chicken breast from the previous night's dinner. Hmmmmmm I should probably eat meat and not graze on junk food all day. But I have a problem with meat hurting my stomach, so it has to be super moist.
What can I do with this? I spied the cream cheese... I spied pimentos.... and here's what I ended up with: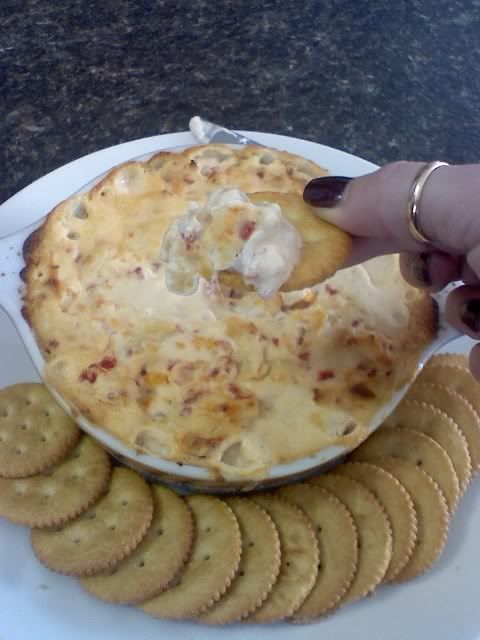 Hot & Creamy Chicken and Pimento Cheesy Dip
1 large (cooked) chicken breast - diced
1 block of cream cheese softened
1/2 cup of shredded cheddar cheese
1 small jar of pimento's drained
1 teaspoon of prepared horseradish
2 Tablespoons sour cream
2 Tablespoons milk
I mixed the softened cream cheese, milk, sour cream and horseradish until nice and creamy... then mixed in all the other ingredients. Put it all in a small baking dish and baked at 375 for about 30-40 minutes - until hot and bubbly and slightly browned on top.
YUMMY!!!!
Is it fatting? Probably if you eat alot of it.... but so was that box of boston cream donuts sitting on my kitchen counter.... so I feel like I made a better choice anyway....
You can eat it on celery sticks, cucumber slices, pepper slices, crackers, little toasted breads, on a sandwhich, or just plain eat it with a spoon. You could even hollow out some tomatoes, stuff the tomatoes, top with bread crumbs and cheese and bake it that way and gobble it up. I'm definitely feeling creative today.
If i had some water chestnuts, I would have thrown them in there too. I just like the crunch they add.
Speaking of gobbling it up - I wonder if leftover turkey would work in this one? Hmmmmm....